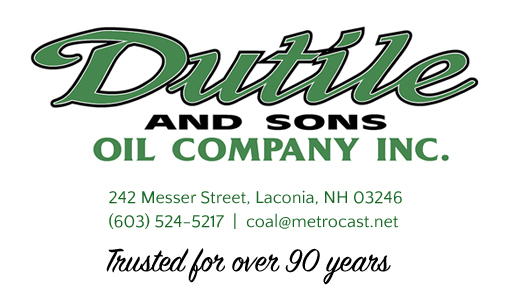 testimonials
"I have been a loyal customer of Dutile & Sons Oil since I moved to Laconia in 1985. They are always available when I need heating oil, and they provide excellent service for our furnace and hot water heater. I wouldn't go anywhere else for heating oil and the services they offer."
-- William S., Satisfied customer for over 30 years.

"I would like to thank you for your outstanding service, and your dedication to our community within the lakes region and beyond. I have had a frustrated relationship with another oil company for years, I wish I would have switched to you a long time ago..."
-- Mark C., Happy customer from now on!

"I deal with Dutile & Sons Oil Company because of their straight-forward and honest service. From oil delivery and service to furnace cleaning and repair, they have fulfilled all our needs for thirty years. There is no company I would rather deal with for my home and my family."
-- Steve D.

"This is a giant thank you to the Dutile Family Oil Business for being there when I had an oil related emergency. They arrived within 10 minutes to repair what could of been a disaster for me. I recommend them to anyone in the community to be there and get the job done right and on time. And they were very reasonable! So a heartfelt Thank You to the Dutile's, good neighbors and friends."
-- Ray C. Laconia NH

"I would just like to say thank you again for your great service this year. A couple of weeks ago I ordered oil online, it was my day off so I was home, and about 20 minutes later I heard a truck pull up in front of my house and I said to myself "no way!" is that them already? Yes it was! Unbelievable! You guys are great! Thank you. Wishing you a Merry Christmas and a Happy New Year!
-- Mark C. Laconia, NH

Let us know what you think!